Artificial Intelligence (AI) Deployments in Africa: Benefits, Challenges and Policy Dimensions
Abstract
The deployment of artificial intelligence (AI) technologies is proliferating on the African continent, but policy responses are still at their early stages. This article provides an overview of the main elements of AI deployment in Africa, AI's core benefits and challenges in African settings, and AI's core policy dimensions for the continent. It is argued that for AI to build, rather than undermine, socio-economic inclusion in African settings, policymakers need to be cognisant of the following key dimensions: gender equity, cultural and linguistic diversity, and labour market shifts.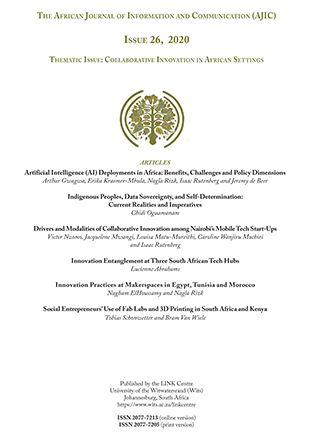 Downloads
How to Cite
Gwagwa, A., Kraemer-Mbula, E., Rizk, N., Rutenberg, I. and De Beer, J. (2020) "Artificial Intelligence (AI) Deployments in Africa: Benefits, Challenges and Policy Dimensions", The African Journal of Information and Communication (AJIC). South Africa, (26). doi: 10.23962/10539/30361.
Section
Research Articles
License
Copyright (c) 2022 Authur Gwagwa, Erika Kraemer-Mbula, Nagla Rizk, Isaac Rutenberg, Jeremy De Beer
This work is licensed under a Creative Commons Attribution 4.0 International License.