The Digitalised Terrorism Ecology: A Systems Perspective
Abstract
This study uses a systematic review methodology to interpret existing literature on the digital dimensions of contemporary terrorism and counter-terrorism. Using the theory of synergetics as a guiding analytical framework, the study conducts meta-synthesis of relevant literature, including application of soft systems methodology (SSM), in order to generate conceptualisation of a digitalised terrorism ecology. This ecology comprises five interacting sub-systems: open digital infrastructure; digital information ecology; digital terrorism enactment; digital capabilities; and digital enslavement.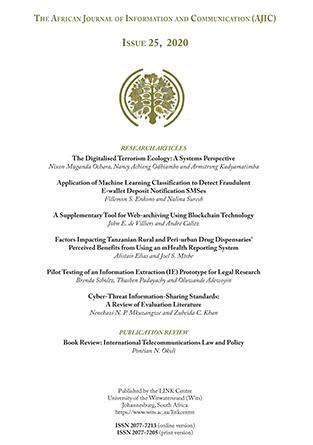 Downloads
How to Cite
Ochara, N. M., Odhiambo, N. A. and Kadyamatimba, A. (2020) "The Digitalised Terrorism Ecology: A Systems Perspective", The African Journal of Information and Communication (AJIC). South Africa, (25). doi: 10.23962/10539/29196.
Section
Research Articles
License
Copyright (c) 2020 https://creativecommons.org/licenses/by/4.0
This work is licensed under a Creative Commons Attribution 4.0 International License.