Mobile Phone Use by Zimbabwean Smallholder Farmers: A Baseline Study
Keywords:
mobile technologies, information and communication technology (ICT), smallholder agriculture, smallholder farmers, spatial arbitrage
Abstract
This article provides findings from a baseline study on mobile phone use by smallholder farmers in Zimbabwe. The study investigated use of mobile phones by 58 farming households in a village in Zimbabwe's Midlands Province. Via a survey questionnaire and a focus group discussion, the study found that 100% of the surveyed households identified "asymmetry of information" as a challenge they face in their agricultural activities, and 90% cited "absence of market information" as a challenge. Yet at the same time, the study found low levels of household mobile phone usage, with only 50% of households were found to be using mobile telephony in support of a farming activity. The article concludes with a recommendation for how to close this apparent gap between the smallholder farmers' felt need for increased agricultural information and, at the same time, their lack of use of mobile telephony to access such information.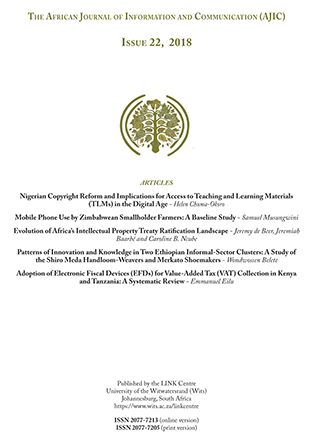 Downloads
How to Cite
Musungwini, S. (2018) "Mobile Phone Use by Zimbabwean Smallholder Farmers: A Baseline Study", The African Journal of Information and Communication (AJIC). South Africa, (22). doi: 10.23962/10539/26171.
Section
Research Articles
License
Copyright (c) 2018 https://creativecommons.org/licenses/by/4.0
This work is licensed under a Creative Commons Attribution 4.0 International License.