Review of Research Paper: Economic Regulation: Hawthorne, R., Bonakele, T., & Cull, D. (2014). Review of Economic Regulation of the Telecommunications Sector
Abstract
Economic Regulation: Hawthorne, R., Bonakele, T., & Cull, D. (2014). Review of Economic Regulation of the Telecommunications Sector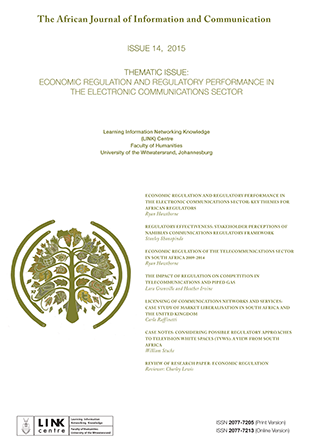 How to Cite
Lewis, C. (2015) "Review of Research Paper: Economic Regulation: Hawthorne, R., Bonakele, T., & Cull, D. (2014). Review of Economic Regulation of the Telecommunications Sector", The African Journal of Information and Communication (AJIC). South Africa, (14). doi: 10.23962/10539/20348.
Section
Thematic Issue: Economic regulation and regulatory performance
License
Copyright (c) 2015 https://creativecommons.org/licenses/by/4.0
This work is licensed under a Creative Commons Attribution 4.0 International License.