The Impact of Regulation on Competition in Telecommunications and Piped Gas
Keywords:
competition analysis, competition regulation, market reviews, ex ante regulation, ex post regulation, telecommunications sector, piped gas sector, South Africa
Abstract
This article examines the ex ante powers to regulate competition bestowed on the Independent Communications Authority of South Africa (ICASA) in terms of the Electronic Communications Act, Act No 36 of 2005 (ECA) and on the National Energy Regulator of South Africa (NERSA) in terms of the Gas Act, Act No 48 of 2001 (Gas Act) and the regulators' recent exercise of these powers to regulate prices in the mobile telecommunications and piped gas industries. Since 1999, the South African competition law authorities have focused on the reactive or ex post exercise of their statutory powers in terms of competition legislation, in order to detect and prosecute anti-competitive behaviour. This includes industries regulated by another sector regulator such as in the electronic communications sector (ICASA) and in the piped gas sector (NERSA). Several complaints against dominant suppliers in these industries have been successfully prosecuted in terms of the Competition Act, Act No 89 of 1998 (Competition Act). There have been far fewer efforts by the sector regulators to proactively exercise their ex ante regulatory powers in order to create a market structure and conditions that facilitate competition in the sectors that they regulate. In this article, we examine the recent exercise of powers by ICASA and NERSA in the mobile and piped gas industries. We conclude that the provisions of the ECA have facilitated (i) the identification and analysis of relevant markets lacking in adequate competition and (ii) the promulgation of regulation that is needed to develop a more competitive environment in due course. However, ICASA's process in exercising its statutory powers has been slow and has suffered from various deficiencies. On the other hand, the analysis indicates that the legislation governing NERSA's ex ante powers, and the way in which NERSA has enforced that legislation, has led to counter-productive regulation, which has hindered competition in the sector. Accordingly amendments to the Gas Act are required. Amendments effected to the ECA retain guidance to the regulator on how to conduct a market review, but the regulator should exercise these powers more often.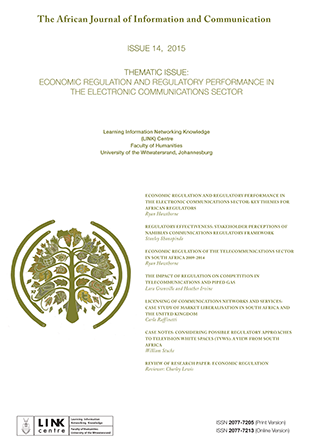 Downloads
How to Cite
Granville, L. and Irvine, H. (2015) "The Impact of Regulation on Competition in Telecommunications and Piped Gas", The African Journal of Information and Communication (AJIC). South Africa, (14). doi: 10.23962/10539/20345.
Section
Thematic Issue: Economic regulation and regulatory performance
License
Copyright (c) 2015 https://creativecommons.org/licenses/by/4.0
This work is licensed under a Creative Commons Attribution 4.0 International License.