Global Diffusion of the Internet: The Internet in Rwanda
Keywords:
Internet diffusion, GDI framework, ISPs, Rwanda
Abstract
The article uses the Global Diffusion of the Internet (GDI) framework to examine Internet diffusion in Rwanda along six dimensions: pervasiveness, geographical dispersion, sectoral absorption, connectivity infrastructure, organisational infrastructure, and sophistication of use. Internet access was launched in 1996, but it was only in 2004 that significant Internet penetration occurred, when the privatisation of Rwandatel to Terracom brought in new investments and technology and the ISP market was opened to competition. Access to the Internet grew to approximately 24% of the population in 2012 or 2.7 million subscribers. Internet growth is hampered by factors which include poor resource mobilisation, unrealistic implementation plans, shortage of qualified human resources, a miniscule private sector, low level of private sector involvement and low Internet usage awareness. Despite these challenges, Rwanda has attained Level 4 (pervasive) for pervasiveness, Level 3 (broad) for connectivity infrastructure, Level 2 (controlled) for organisational infrastructure, Level 3 (highly dispersed) for geographic dispersion, Level 3 (common) for sectoral absorption and Level 3 (transforming) for sophistication of use. This limited progress is due partly to the policy focus on addressing Internet access (Vision 2020), and financial support from multilateral and bilateral agencies. Further policy and regulatory action and heightened awareness of the Internet are required to translate the statistics for GDI into greater access.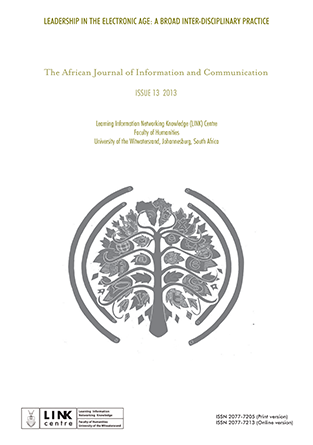 Downloads
How to Cite
Mlay, S., Balunywa, L., Mbarika, V., Moya, M., Ngnitedem, A. and Vegah, G. (2013) "Global Diffusion of the Internet: The Internet in Rwanda", The African Journal of Information and Communication (AJIC). South Africa, (13). doi: 10.23962/10539/19273.
Section
Building the information society
License
Copyright (c) 2013 https://creativecommons.org/licenses/by/4.0
This work is licensed under a Creative Commons Attribution 4.0 International License.