Hanna, N. & Knight, P. (Eds) (2011). Seeking Transformation Through Information Technology: Strategies for Brazil, China, Canada and Sri Lanka; Hanna, N. & Knight, P. (Eds) (2012). National Strategies to Harness Information Technology: Seeking Transformat
Abstract
Book Review: Hanna, N. & Knight, P. (Eds) (2011). Seeking Transformation Through Information Technology: Strategies for Brazil, China, Canada and Sri Lanka; Hanna, N. & Knight, P. (Eds) (2012). National Strategies to Harness Information Technology: Seeking Transformation in Singapore, Finland, The Philippines, and South Africa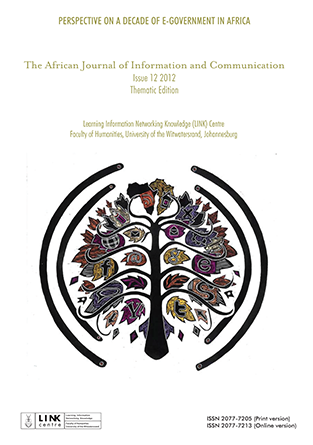 Downloads
How to Cite
Reinhard, N. (2012) "Hanna, N. & Knight, P. (Eds) (2011). Seeking Transformation Through Information Technology: Strategies for Brazil, China, Canada and Sri Lanka; Hanna, N. & Knight, P. (Eds) (2012). National Strategies to Harness Information Technology: Seeking Transformat", The African Journal of Information and Communication (AJIC). South Africa, (12). doi: 10.23962/10539/19715.
License
Copyright (c) 2012 https://creativecommons.org/licenses/by/4.0
This work is licensed under a Creative Commons Attribution 4.0 International License.