Enabling g-Government in the Gauteng City-Region
Keywords:
effective government, g-government, GIS, spatial data
Abstract
The term g-government, a subset of e-government, was first introduced in 2000 as the convergence of geographical information systems (GIS) and the Internet to create more effective government interaction with citizens. More recently, it has been revised to describe the combination of GIS and Web 2.0 technologies that can enhance government services and delivery. Most government data is spatially based and can be visualised and interpreted using a Web GIS mapping application, but this data is often not available to other government departments, or the general public, frustratingly so. In South Africa, problems with accessing spatial data continue to exist. The Gauteng City-Region Observatory (GCRO) recognised that g-government remains a challenge within the Gauteng city-region (GCR), and in 2010 developed a GIS website for the GCRO and Gauteng Provincial Government. This article is presented in the context of the global shift to fully connected governments through technologies such as Government 2.0 and g-government. It provides a specific focus on the GCRO GIS website and how it enables g-government by providing local and provincial government with the spatial data and tools required to better understand the city-region, and to make informed decisions about future development in the city-region. The article also reviews Technology Acceptance Model (TAM) scores measured at the launch of the website. Finally, monthly website visits are examined. This confirms that local and provincial government are ready to utilise the g-government website.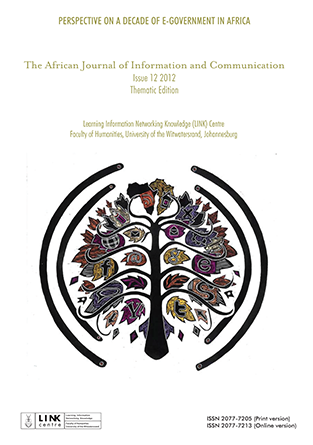 Downloads
How to Cite
Wray, C. and Van Olst, R. (2012) "Enabling g-Government in the Gauteng City-Region", The African Journal of Information and Communication (AJIC). South Africa, (12). doi: 10.23962/10539/19709.
Section
Themes and approaches to inform e-strategies
License
This work is licensed under a Creative Commons Attribution 4.0 International License.