Telecentre Approaches in Cameroon and Kenya Illuminated Using Behavioural Archaeology
Keywords:
behavioural archaeology, telecentres, Cameroon, Kenya, electronic communications, resource-poor environments
Abstract
Throughout the last decade, telecentres have provided access to electronic communications as a supporting ICT infrastructure for community, economic, educational and social development. While the origins of telecentres can be traced to Europe's telecottage and community technology centres in the United States in the 1980s, telecentres have taken varying forms and approaches. This article illuminates approaches used by telecentre projects in Kenya and Cameroon, using behavioural archaeology. Literature stresses that behavioural archaeology refers to understanding the artefact as a tool in human activity and technology as the embodiment of human activity in the artefact. Application of behavioural archaeology to telecentres sheds light on the nature of technology use leading to particular results or societal outcomes. Using a qualitative methodology, managers, local contractors and technicians at local telecentres were interviewed. The results show differing approaches to the purpose and design of telecentres. In Kenya, the focus is on e-government services, while in Cameroon it is on conflict solving among different societal groups. In its use of behavioural archaeology, this article adds a new perspective on the challenges of making ICT and electronic media available in resource-poor environments.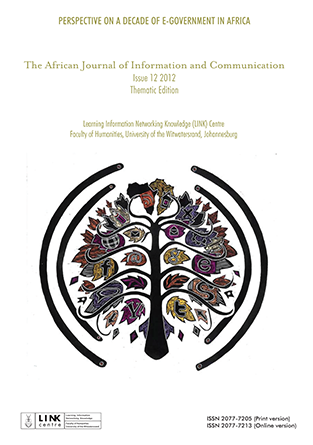 Downloads
How to Cite
Hallberg, D., Godem, C. and Dzimey, W. (2012) "Telecentre Approaches in Cameroon and Kenya Illuminated Using Behavioural Archaeology", The African Journal of Information and Communication (AJIC). South Africa, (12). doi: 10.23962/10539/19708.
Section
Themes and approaches to inform e-strategies
License
Copyright (c) 2012 https://creativecommons.org/licenses/by/4.0
This work is licensed under a Creative Commons Attribution 4.0 International License.