Servicing Advocacy in E-Government: Small Business Development Services in Cape Town
Keywords:
small business development, e-government support services, adequacy, awareness, advocacy
Abstract
Small businesses are widely regarded by national and international bodies, including the South African government, as an "engine of economic growth". However, much available evidence suggests that establishing a new small business in South Africa is difficult because of a lack of appropriate support. The research reported here sets out to examine the actual support that has been available, and the viewpoints of both the support service providers and the intended beneficiaries – small business owners and managers. It was found that government-based support services were predominant in the minds of small businesses and other involved parties, and that much of the interest in these services was based on accessibility via the Internet, a form of electronic government service. However, despite claims of success by e-government service providers, it is found that many small businesses are not aware of available support services, and that, where they are known, there is scepticism about the benefits of engaging with them. As the problems have been found to be centred around a lack of awareness of available services, this article reports on a possible solution, based on a concept referred to here as Servicing Advocacy.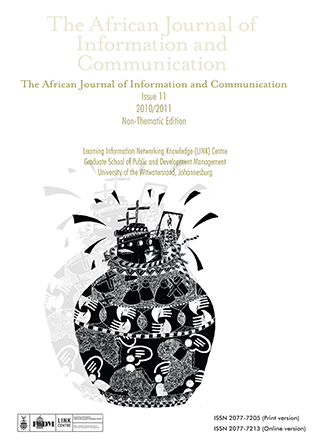 Downloads
How to Cite
Mitrovic, Z. and Bytheway, A. (2011) "Servicing Advocacy in E-Government: Small Business Development Services in Cape Town", The African Journal of Information and Communication (AJIC). South Africa, (11). doi: 10.23962/10539/19720.
Section
Research Articles
License
Copyright (c) 2011 https://creativecommons.org/licenses/by/4.0
This work is licensed under a Creative Commons Attribution 4.0 International License.