Drivers and Modalities of Collaborative Innovation among Nairobi's Mobile Tech Start-ups
Abstract
This article sets out findings from research into the collaborative modalities present in the innovation practices of mobile tech start-ups in the Kenyan capital, Nairobi. Drawing on findings from qualitative data collection from respondents at 25 startups in the Nairobi mobile tech ecosystem, the study explores the start-ups' participation in tech hubs, their internal collaborative activities, their external collaborations, their approaches to managing the knowledge and innovations they generate, and their approaches to the scaling of their enterprises. The study finds that three key drivers of the start-ups' collaborative innovation practices are openness, networking, and informality.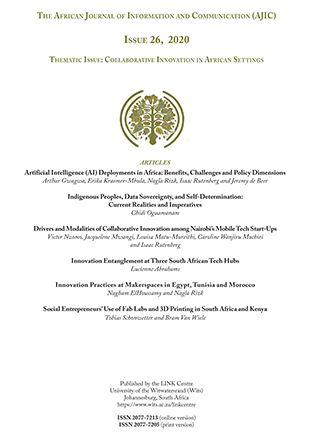 Downloads
How to Cite
Nzomo, V., Mwangi, J., Matu-Mureithi, L., Muchiri, C. W. and Rutenberg, I. (2020) "Drivers and Modalities of Collaborative Innovation among Nairobi's Mobile Tech Start-ups", The African Journal of Information and Communication (AJIC). South Africa, (26). doi: 10.23962/10539/30359.
Section
Research Articles
License
Copyright (c) 2020 https://creativecommons.org/licenses/by/4.0
This work is licensed under a Creative Commons Attribution 4.0 International License.