Policy Modalities for Support of Ethiopia's Creative Industries
Keywords:
creative industries, culture, copyright, public policy, knowledge, Ethiopia
Abstract
Creative industries are a rapidly growing sector in the global economy in terms of income generation, job creation, and export earnings. The creative economy, based to a significant extent on ideas rather than physical capital, offers new, high-growth opportunities for developing countries. The author of this article led a WIPO-commissioned study (Belete & Tadesse, 2014) of the economic contribution of the creative industries in Ethiopia. That study quantified the contribution of "copyright industries" to the country's economy, and showed the sector's great potential to contribute to sustainable development in the country. Alongside the vast opportunities offered by the creative industries, that earlier study also found a number of corresponding challenges that needed to be addressed by Ethiopian policymakers. In this article, the author provides a framework for understanding the policy issues at play in the Ethiopian creative industries sector and then brings that framework to bear on the findings of his earlier study (Belete & Tadesse, 2014). The result is a set of proposed policy measures that the author determines are necessary for optimal support of Ethiopia's creative economy.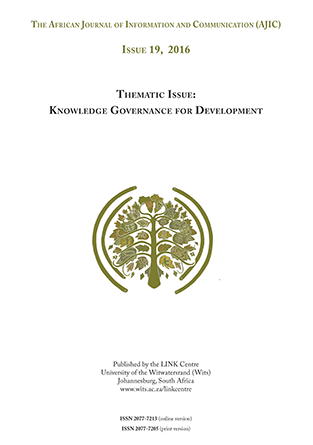 Downloads
How to Cite
Belete, W. (2016) "Policy Modalities for Support of Ethiopia's Creative Industries", The African Journal of Information and Communication (AJIC). South Africa, (19). doi: 10.23962/10539/21586.
Section
Research Articles
License
Copyright (c) 2016 https://creativecommons.org/licenses/by/4.0
This work is licensed under a Creative Commons Attribution 4.0 International License.