Towards Citizen–Expert Knowledge Exchange for Biodiversity Informatics: A Conceptual Architecture
Keywords:
conceptual architecture, knowledge exchange, species identification, crowdsourcing, knowledge transfer, ontology in information systems
Abstract
This article proposes a conceptual architecture for citizen–expert knowledge exchange in biodiversity management. Expert services, such as taxonomic identification, are required in many biodiversity management activities, yet these services remain inaccessible to poor communities, such as small-scale farmers. The aim of this research was to combine ontology and crowdsourcing technologies to provide taxonomic services to such communities. The study used a design science research (DSR) approach to develop the conceptual architecture. The DSR approach generates knowledge through building and evaluation of novel artefacts. The research instantiated the architecture through the development of a platform for experts and farmers to share knowledge on fruit flies. The platform is intended to support rural fruit farmers in Kenya with control and management of fruit flies. Expert knowledge about fruit flies is captured in an ontology that is integrated into the platform. The non-expert citizen participation includes harnessing crowdsourcing technologies to assist with organism identification. An evaluation of the architecture was done through an experiment of fruit fly identification using the platform. The results showed that the crowds, supported by an ontology of expert knowledge, could identify most samples to species level and in some cases to sub-family level. The conceptual architecture may guide and enable creation of citizen–expert knowledge exchange applications, which may alleviate the taxonomic impediment, as well as allow poor citizens access to expert knowledge. Such a conceptual architecture may also enable the implementation of systems that allow non-experts to participate in sharing of knowledge, thus providing opportunity for the evolution of comprehensive biodiversity knowledge systems.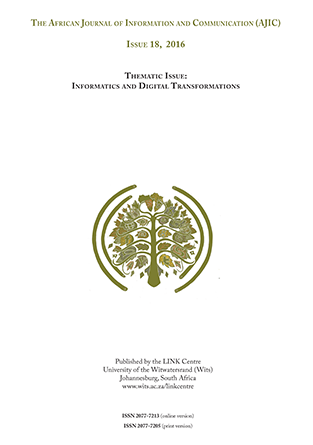 Downloads
How to Cite
Kiptoo, C. C., Gerber, A. and Van der Merwe, A. (2016) "Towards Citizen–Expert Knowledge Exchange for Biodiversity Informatics: A Conceptual Architecture", The African Journal of Information and Communication (AJIC). South Africa, (18). doi: 10.23962/10539/21758.
Section
Research Articles
License
Copyright (c) 2016 https://creativecommons.org/licenses/by/4.0
This work is licensed under a Creative Commons Attribution 4.0 International License.