A Critical Analysis of e-Government in Zambia
Keywords:
e-government policy, reform, Zambia
Abstract
This article presents a critical analysis of e-government in Zambia. It reviews the relevant literature and then explains the structure and operation of the Zambian government in the context of e-government. It presents and analyses the results of a small sample study on e-government in Zambia and points to six areas for policy reform, highlighting leadership, stakeholder engagement, prioritisation, increased funding, private sector participation and mobile channels as key elements needed for future success.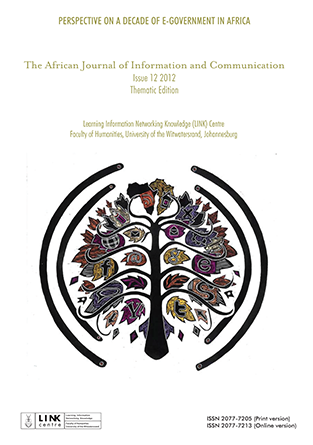 Downloads
How to Cite
Mzyece, M. (2012) "A Critical Analysis of e-Government in Zambia", The African Journal of Information and Communication (AJIC). South Africa, (12). doi: 10.23962/10539/19711.
Section
Country perspectives on e-government emergence
License
Copyright (c) 2012 https://creativecommons.org/licenses/by/4.0
This work is licensed under a Creative Commons Attribution 4.0 International License.